Closed for Winter Break
To our valued customers, we are currently on a Winter break effective December 13, 2021. We will be reopening late Spring 2022. All orders submitted December 13, 2021 through June 30, 2022 will be shipped July 2022.
Thank you very much for your continued support and look forward to serving you when we reopen.
Our Shortbread Products
Prepared in a facility that also handles peanuts and tree nuts.
Shortbread Squares
The finest quality shortbread ever. Twelve "melt in your mouth" flavors to choose from.

8 oz. bags: $10.00 each
or 3 for $27.00
---
Traditional Shortbread Cake
A Scottish Thistle is imprinted on these beautiful cakes. Serve sliced in wedges with your favorite topping or a big cookie to enjoy all to yourself.

11 oz.  $11.00
---
cinnamon swirls
The ultimate "cinnamon roll". Traditional shortbread rolled with cinnamon, brown sugar, and walnuts. To die for!!

4 oz.  $5.00
---
Millionaire Shortbread (Seasonal)
The most decadent of all! A heart shaped traditional shortbread topped with creamy caramel, macadamia nuts, and drizzled with rich dark chocolate.

4 oz.  $6.00
---
Scottish Delights
Thumbprint cookies, only this one's made with our delicious shortbread. Rich raspberry, and rich dark chocolate (seasonal) are your choices of fillings.

4 oz.  $5.00
---
Chocolate Covered Shortbread (seasonal)

The lovers of just "plain shortbread" dipped in dark rich chocolate will enjoy this popular treat.

4 oz.  $5.00
---
Scottish Oatcakes
Our version of Scottish Oatcakes are so tasty and palatable it could be mistaken for a cookie. Top this with our Brandied Ginger Peach Marmalade and your breakfast or afternoon tea will never be the same.

6 oz.  $6.00
---
Assortment Gift Pack
Our most popular gift. For the special someone and/or occasion these
attractive gift boxes are custom made with your choice of flavors.
(6 Flavors - 4 oz each)
24 oz.  $29.00
---
Shortbread Cakes in Decorator Tin


This tartan tin contains two beautiful Scottish thistle imprinted Traditional Shortbread Cakes. A very traditional gift for the holidays or anytime.

22 oz. (11 oz each)  $26.00
---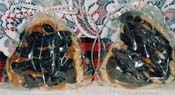 Millionaire Shortbread
Two pieces of our decadent Millionaire Shortbread, attractively packaged in a gold box.

(Seasonal) 2 Pcs.  $15.00
---
Shortbread Squares in Decorator Tin
These tartan tins contain Shortbread Squares (your choice of flavor) in 8 or 16 ounce sizes.

8 oz.  $15.00   ~   16 oz.  $25.00
---